Invitation

Dear Go Friends from Serbia and abroad,
​We inform you that The International Go Tournament NIŠOPEN 2023 will be held on December 23-24, 2023.
You are welcome to spend the last weekend of the year playing Go and celebrating Christmas days in Niš!
We tried to provide the best possible conditions, despite the extremely difficult situation in which our club has been this year!
This is our third attempt to organize NIŠOPEN 2023 and we do hope that, together with you, we will succeed and again be part of EGF Calendar of tournaments.
We are waiting to see you in Niš!
Register for th​​​​​​e tournament
Call for participation

It is our pleasure to invite you to participate in
INTERNATIONAL GO TOURNAMENT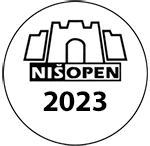 NIŠOPEN 2023
DATE: 2023, Decembar 23rd-24th
VENUE: City of Niš (Serbia), Centar za stručno usavršavanje (Center for professional development),
St. Pariske komune bb


Participants and guests are welcome to register on-line or on-site, until the registration closing. Participants of all ages and strenght are welcome!

Tournament Agenda
Saturday, December 23rd
10:30 Registration closes
11:00 First round (1)
14:00 Second round (2)
17:00 Third round (3)
20:00 NIŠOPEN2023 Cocktail Party

Sunday, December 24th
10:00 Fourth round (4)
13:00 Fifth round (5)
16:00 Awarding and Closing Ceremony
SYSTEM: MacMahon 5 rounds, Japanese rules (6.5 komi)

TIME: 60 minutes + 3x30 sec (or 10/25) byoyomi
REGISTRATION FEE (for players above 18 years) :
Until December 22: 1800,00 RSD (15,00 EUR)

On-site: 2300,00 RSD (20,00 EUR)
PRIZES: Top three places, the best kyu player, the best lady player, the best young player (U18), players with 5 points...
Accomodation
Recommended in the Guest House of the Center:
Single room 1.900,00 RSD per night,

Double room 3.100,00 RSD per night.
Capacity : 30 beds
4 single rooms
13 double rooms.


Arrival
Niš is easily accessible by several types of transportation.:
By Airplane:
Available flights to Niš airport from:
Cologne/Bonn, Memmingen, Vienna, Dortmund, Basel, Istanbul, Ljubljana.
(Refer to : Airport Niš flights information)
By Car:
Major highway E75 connects Niš with Belgrade and other towns in Serbia.
By Bus:
Bus lines from Belgrade are available on every hour. Most are direct. Bus trip takes 3 hours approximately. Also, there are daily lines from Sofia, Zagreb, Skopje and other cities.
City local bus lines:
no.6 and no.13.
By Train:
Not recommended!


Contact
For any further assistance about the registration for the tournament, accommodation, or transportation, do not hesitate to contact us via e-mail info@progo.org.rs